Last Updated:

Feb 6, 2017 - 2:32:04 PM
---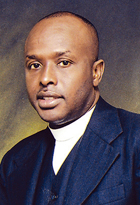 KJV: 1John. 4:1. Beloved, believe not every spirit, but try the spirits whether they are of God: because many false prophets are gone out into the world.

NLT: 1John.4:1. Dear friends, do not believe everyone who claims to speak by the Spirit. You must test them to see if the spirit they have comes from God. For there are many false prophets in the world.

Despite the fact that the bible speaks clearly to and about false prophets in both The Old and The New Testaments today's religious church with open arms and heart gracefully accepts any and every kind of foolishness that comes in Jesus' name; especially any foreign preachers / teachers that's invited by their shallow minded / spiritually dead church leaders.

To quench, silent and even shut down the spirit of discernment in the church; Today's church leaders waste no time in threatening / intimidating their naïve follower with this passage of scripture which is often taken out of context (1Chron.16: 22. Touch not mine anointed, and do my prophets no harm.

These are the last days, and the enemy / Satan is doing every and anything that he can to gain an advantage over the Kingdom of God; and one of the most effective tools that the enemy is using in these financially hard / challenging times is that of the TWISTED, INCOMPLETE, PROSPERITY GOSPEL that has become the PRIMARY message of today's church.
Please know this !
Whenever a man of woman takes to the pulpit and can preach about their houses, cars or other material possessions or that of another prosperity preacher and then conveniently interject a little bit of Jesus and a few scripture verses as a bonus; My Brother / My Sister, you're about to be taken on the incomplete Abraham's prosperity journey; you've about to get hoodwinked, bamboozled, run-a-muck and swing "In Jesus' Name"

Let me make this emphatically clear; by no means am I against prosperity, as I strongly believe and agree that it's God's will to prosper His people. But, here's the problem with the majority of today's church-folks, they've allowed erroneous religious teachings to cause them to see prosperity only in the realm of money/ finances; and absolutely nothing could be further from the truth. As a result of this passionate pursuit for money, there are many undeniable truths / facts that today's religious leaders are driving the church off the deep end with their twisted, incomplete concept of prosperity which primarily benefits themselves, their families and close associates; while leaving the rest of the congregation WISHING-AND-A-HOPING for a breakthrough.

An authentic man or woman of God or a ministry has no problem with accountability, and with those who are qualified to ask questions / inquirer as to the proper operation of the ministry and its finances.

Unfortunately, this is not the case with the ulterior motives / hidden agendas Religious Leaders who have become gods unto themselves. In this type of church leadership; for a member to ask questions of accountability (especially with the church finances), it would be viewed liken to that of blasphemy; and this remark or comment can often be heard "how dare you'll question the Mand-of God" this is also followed by the person or persons asking the question being negatively branded as (Trouble Makers) by the church leadership.

Please know this !
Wherever the spirit of discernment is void or lacking; the spirit of manipulation and witchcraft has free course to operate. The spirit of manipulation and witchcraft is very subtle in its working and it is prevalent in today's local churches. This can be clearly seen in churches / ministries where the religious leader (Bishop, Apostle, Doctor, Prophet, Pastor, etc;) is worshiped by his followers.

Have you ever seen or experience something like this? Whenever Bishop or Pastor shows up to church or any church events; It's like the Lord himself just arrived.

The authentic in Messiah / Christ knows and understands full well that he is but a servant of the Most High God ('elyown, el-yone'), unto His kingdom and people.

Whereas the counterfeits look to be served by the people as they carry out their religious agendas of building their churches, dynasties and empires (In Jesus' Name). The counterfeits have mastered the art of twisting and misappropriating the scriptures to accomplish that which they've set out to do.

Here's a very sad truth:
Being the weaker vessels and more emotionally led as they are (Women) are often the prey for counterfeits, crafty, ulterior motives religious leaders, who in most cases those have various forms of godliness; yet blatantly denies God's power, thereby from such religious leaders we're admonished to turn away / run from.

2Tim.3: 5. Having a form of godliness, but denying the power thereof: from such turn away.

:6. For of this sort are they which creep into houses, and lead captive silly women laden with sins, led away with divers lusts,

:7. Ever learning, and never able to come to the knowledge of the truth.

Most persons today are constantly pursuing after a word from God; while pursuing God is always the best course / path for one to take; might I strongly suggest that this be done by the leading of the Holy Spirit and the spirit of discernment.

For questions and comments contact us via E-mails:
pastormallen@yahoo.com or kmfci@live.com
or 242-441-2023

Pastors Matthew & Brendalee Allen
Kingdom Minded Fellowship Center Int'l





© Copyright 2012 by thebahamasweekly.com

Top of Page