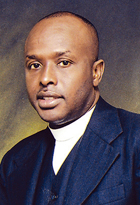 Deut.28: 13. And the LORD shall make thee the head, and not the tail; and thou shalt be above only, and thou shalt not be beneath; if that thou hearken unto the commandments of the LORD thy God, which I command thee this day, to observe and to do them:
And the Lord shall make thee (you) the head, and not the tail; above only and not beneath! This move has absolutely nothing to do with one's religious or political status. This is done solely by the Lord.
No amount of crafty wheeling or dealing, no closed door secret meetings can bring about that which God has spoken in the above passage of scripture. Whatever a man compromised to gain, he would have to compromise to maintain.
As the word of God is forever true and sure; most people are ship wrecking their faith as they've failed to seek God for wisdom of His process in making them the head and not the tail. Too often, the religious mind set would hear the testimony (sometimes true, MOST of the time LIES) of some superstar religious leader that's skillfully working his / her twisted, incomplete prosperity gospel.
And based upon that which they've heard, they are now looking / expecting God to show Himself on their behalf as the superstar religious leader said He did in his or her life.
Attaining the position / status of being the head, and not the tail has everything to do with one's obedience to God's commandments (Deut.28:13b. if that thou hearken unto the commandments of the LORD thy God, which I command thee this day, to observe and to do them)
This process of being the head is orchestrated by God and it's not meant to kill or frustrate you, but rather to rid you of everything that would weight you down and hinder you from being the head, and not the tail.
As you're faithfully going through God's process, here's what He says: "Jer.29: 11. For I know the thoughts that I think toward you, saith the LORD, thoughts of peace, and not of evil, to give you an expected end".
Despite the fact that there are many in church leadership who have taken the word of God, and have methodically twisted it, for their own selfish financial gain; thereby giving way to the concept / terminology (Twisted Prosperity Gospel); it is and will forever be God's will, His pleasure to prosper His children / servants:
Ps.35:27b. Let the LORD be magnified, which hath pleasure in the prosperity of his servant.
God's promises / blessings are conditional "If my people, if that thou hearken, if you are willing and obedient, etc, etc," don't be deceived into thinking that a person can live any kind of lifestyle that's contrary to God's commands; and God will yet pour out His blessings upon such a persons.
Please hear me! No matter who (Man or Woman) anoints you with oil, lay hands upon and prophesy (prophet-lie) to you; God's blessings are still conditional. Ignorance to the truth of God's word is one of the enemy's most powerful weapons in use against the church.
Being the head and not the tail is that of a prosperous life; this life is bestowed upon the man / woman (his or her generation) that fears God and keeps His commandments.
Watch this !
Ps. 112:1. Praise ye the LORD. Blessed is the man that feareth the LORD, that delighteth greatly in his commandments.
: 2. His seed shall be mighty upon earth: the generation of the upright shall be blessed.
: 3. Wealth and riches shall be in his house: and his righteousness endureth for ever.
The pursuit for prosperity has brought about many twisted paths / views in the body of Christ; whereby every instruction and direction to God prosperity for His people is clearly laid out in His word, the Bible.
In the religious circle many books to prosperity, wealth and riches are being written by those who have anointed themselves as the authoritative voices of prosperity, wealth and riches.
Being the all knowing God that He is, here's what Yahweh said to Joshua concerning his prosperity.
Josh.1: 8. This book of the law shall not depart out of thy mouth; but thou shalt meditate therein day and night, that thou mayest observe to do according to all that is written therein: for then thou shalt make thy way prosperous, and then thou shalt have good success.
It's time for you as a believer to start examining that which you're allowing to enter your spirit as it relates to prosperity; because we're living in a time whereby if it's possible even the very elect of God can be deceived.
May the FOG ( Favor of God ) be with you, your family, your business and your ministry:
For question and comments contact us via E-mails:pastormallen@yahoo.com or kmfci@live.com or 242-441-2021
Pastors Matthew & Brendalee Allen
Kingdom Minded Fellowship Center Int'l