Last Updated:

Feb 6, 2017 - 2:32:04 PM
---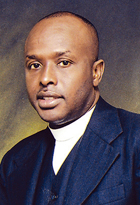 For some time this erroneous saying

"The voice of the people, is the voice of God"

has been echoing throughout the length and breadth of the Bahamas; even more so this saying has gain its strength and support as prominent Religious Leaders can be heard ignorantly making such charge; of which the masses of their gullible, itching ears religious-minded church folks quickly digest and ran with.

And to further add insult to injury this saying has been methodically tied to politics and its outcome.


Now, right away I know that some who are already offended from the above paragraph; and if you're offended already, believe me; the rest of this article will definitely tick you off;

Trust me, I sincerely pray that it do.

Please be advised, that TRUTH has a way of offending and exposing LIES.
Let me say, as I've consistently stated many time before and will continually do so "I don't ascribe to Politics, I'm not a P.L.P – an F.N.M - or a D.N.A. I'm a proud patriotic Bahamian that loves his country and a faithful servant of the Most High God (

'elyown, el-yone'

).

So, the P.L.P. is the Government of the Commonwealth of the Bahamas, as a Pastor it's my duty / my responsibility to pray for the success of this and every duly / lawfully elected Government.

Yet, as a people we cannot be this spiritually dead or naïve to swallow this erroneous saying

"The voice of the people, is the voice of God"

because the P.L.P. won the general election; No Sir / No Madam that's not true.

The voice of the people is most certainly, not the voice of God.

The Bible and the Holy Spirit serves as God's voice to his people; and not a bunch of liquored up, party hardy, politically motivated folks.
Life is about choices, God / Yahweh has given mankind the ability to choose; it's called "FREE WILL" and for

those who really don't know which choice to make He would give a hint or a tip (follow me on this); here's what the word of God says.
Deut.30:
19.

I call heaven and earth to record this day against you, that I have set before you life and death, blessing and cursing: therefore choose life, that both thou and thy seed may live:
Whenever a leader ascribes to the notion that

"the voice of the people, is the voice of God"

this clearly indicates that such a leader or leaders themselves, don't know the voice of God and will freely follow any sounding good voice that produces their expected result.
In speaking about the sheepfold knowing his Father's voice Yahshua Messiah (a.k.a. Jesus the Christ) told this parable.
John.10:
1.

Verily, verily, I say unto you, He that entereth not by the door into the sheepfold, but climbeth up some other way, the same is a thief and a robber.
:2.

But he that entereth in by the door is the shepherd of the sheep.
:3.

To him the porter openeth; and the sheep hear his voice: and he calleth his own sheep by name, and leadeth them out.
:4.

And when he putteth forth his own sheep, he goeth before them, and the sheep follow him: for they know his voice.
:5.

And a stranger will they not follow, but will flee from him: for they know not the voice of strangers.
Knowing the voice of God is the most precious gem in the life of mankind, and to be mislead / deceived by another voice or voices could prove to have deadly consequences both spiritually and naturally.
Here's the voice of the people at work:
Exo.32:1.

And when the people saw that Moses delayed to come down out of the mount, the people gathered themselves together unto Aaron, and said unto him, Up, make us gods, which shall go before us; for as for this Moses, the man that brought us up out of the land of Egypt, we wot not what is become of him.
The fact that the majority might overwhelming come to a decision; it's reckless and dawn right irresponsible for any to declare that such decision is the voice of God.

Yes, God will give a leader (a man or woman) a directive for a people / nation; but as it relates to a Political General Election, He (God) has given the people a free will to choose.
Here's another example of the people's voice:
Lk.23:
13.

And Pilate, when he had called together the chief priests and the rulers and the people,
:14.

Said unto them, Ye have brought this man unto me, as one that perverteth the people: and, behold, I, having examined him before you, have found no fault in this man touching those things whereof ye accuse him:
:15.

No, nor yet Herod: for I sent you to him; and, lo, nothing worthy of death is done unto him.
:16.

I will therefore chastise him, and release him.
:17.

(For of necessity he must release one unto them at the feast.)
:18.

And they cried out all at once, saying, Away with this man, and release unto us Barabbas:
:19.

(Who for a certain sedition made in the city, and for murder, was cast into prison.)
:20.

Pilate therefore, willing to release Jesus, spake again to them.
:21.

But they cried, saying, Crucify him, crucify him.
In this day and time, it's of the utmost importance that we who name the name of Messiah (Christ) have a genuine working knowledge / revelation of the voice of God (Yahweh), and not be taken / lead astray by familiar voice.

In relationship with God one would get know His voice; in religion one has to take a blind stab (a hit and missed approach) to a move or action to determine whether it was of God or not.
Pastors Matthew & Brendalee Allen
Kingdom Minded Fellowship Center Int'l





© Copyright 2012 by thebahamasweekly.com

Top of Page