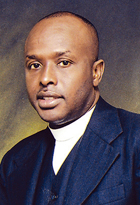 What do you do, when pressure presses you?
It's during those moments when everything that could go wrong; goes wrong. All of your creditors are calling (delinquent payments), financial problems, health issues, unhealthy family matters, the lost of a love one; thereby causing your heart to be overwhelmed.
It's in these moments that you've got to put pride aside and cry out to the Lord as David frequently did.
Ps.61:1. Hear my cry, O God; attend unto my prayer.
: 2. From the end of the earth will I cry unto thee, when my heart is overwhelmed: lead me to the rock that is higher than I.
Pressure is a force, a weight / heaviness that brings about a spirit of anxiety / stress, which if not managed well can unleashed a barrage of sickness to the body. There is a street saying that says "Pressure bust pipe" not only is this a street saying; but it is a fact. Many families / marriages are under intense pressure; at the point of bursting / falling apart due to financial hardships which is disrupting the effective communication factor.
As long as we're here on earth, whether saved or unsaved, black or white, rich or poor; we all will experience some form of pressure one way or another. The good news concerning pressure is that; one's personal relationship and fellowship with God (Yahweh) during these pressure moments brings about a peace that surpasses all understanding.
Knowing that He (God) walks with you, and He talks with you, and He tells you that you're His own; gives you the assurance / confidence that He will lead and guide you through whatever challenges and storms you're facing.
Watch this!
As a child of God, you're liken to Israel and hears what your heavenly Father says:
"Isa. 43:1. But now thus saith the LORD that created thee, O Jacob, and he that formed thee, O Israel, Fear not: for I have redeemed thee, I have called thee by thy name; thou art mine.
: 2. When thou passest through the waters, I will be with thee; and through the rivers, they shall not overflow thee: when thou walkest through the fire, thou shalt not be burned; neither shall the flame kindle upon thee.
So, yes! You may not be able to pay your bills as you would have liked to, due to the financial hardship you're facing; you've had to endure being ridicule and slandered by your creditors and in some cases even faced legal prosecution.
Yet, I encourage you; that after you've done all that you can to stand; STAND even stronger for your latter days will be by far greater than your former and present day. The day of your breakthrough is just ahead thereby positioning you to pay your creditors double for their troubles.
What Do You Do, When Pressure Presses You? Might I suggest that you hold onto God's unchanging hand!
God knows exactly where you are, and what you're going through. "your God ordained destiny is not predicated upon which political party forms the Government or what religious denomination / none denomination you belongs to"
Yahweh has preserved you through thick and thin; as there were times when you wanted to give up and throw in the towel, but that still small voice kept encouraging you to hold on.
Again, going back to David; here was an anointed man of God, called to do a great work / had to fight many battles; his personal life was filled with turmoil and as a leader, he was under great pressure from the people; which caused him to be greatly distressed
"1Sam.30: 6. And David was greatly distressed; for the people spake of stoning him, because the soul of all the people was grieved, every man for his sons and for his daughters: but David encouraged himself in the LORD his God.
Please know this! As a believer whenever pressure, presses you; your praise and worship is the release valve (a powerful regulator) that will and can defuse any and all kinds of stress. We've got to get to that point in our walk with God, where we begin to speak to ourselves and our situations as David did.
Watch this!
Ps.103:1. Bless the LORD, O my soul: and all that is within me, bless his holy name.
: 2. Bless the LORD, O my soul, and forget not all his benefits:
: 3. Who forgiveth all thine iniquities; who healeth all thy diseases;
: 4. Who redeemeth thy life from destruction; who crowneth thee with lovingkindness and tender mercies;
: 5. Who satisfieth thy mouth with good things; so that thy youth is renewed like the eagle's.
As I've stated before, so say I again: "Don't Allow Where You Are, To Determine Who You Are"
It's something like this (You, a Bahamian; could be in China right now but that doesn't make you a Chinese). My case and point; you might be under a lot of pressure right now / facing a difficult situation or situations, but you're not your situation; you are the righteousness of God (Yahweh) in Christ (Yahshua Messiah) 2Crointh.5: 21.
When pressure, presses you! Use your praise and worship to press, pressure back in its place:
For questions and comments contact us via E-mails:pastormallen@yahoo.com or kmfci@live.com or Ph.242-441-2021.
Pastors Matthew & Brendalee Allen
Kingdom Minded Fellowship Center Int'l