Last Updated:

Feb 6, 2017 - 2:32:04 PM
---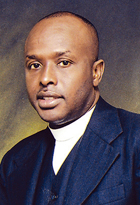 When it comes to provoking the sheepfold to financially give; religious leaders both far and wide waste no time in quoting (Malachi.3:8–11).
Mal.3: 8. Will a man rob God? Yet ye have robbed me. But ye say, Wherein have we robbed thee? In tithes and offerings.
: 9. Ye are cursed with a curse: for ye have robbed me, even this whole nation.
: 10. Bring ye all the tithes into the storehouse, that there may be meat in mine house, and prove me now herewith, saith the LORD of hosts, if I will not open you the windows of heaven, and pour you out a blessing, that there shall not be room enough to receive it.
: 11. And I will rebuke the devourer for your sakes, and he shall not destroy the fruits of your ground; neither shall your vine cast her fruit before the time in the field, saith the LORD of hosts.

Do I believe in the principle of giving / sowing financial seeds? Yes, I do!

Yet, I'm ultimately convinced that there's absolutely no need / no reason to manipulate people to financially give into the work of God. I make no apology in saying that wherever the spirit of manipulation resides; the Holy Spirit doesn't.
For years the "Will a man rob God?" has been used as the launching pad to entice congregations to give. The question of "Will am man rob God?" was directed to the religious leaders because of their corrupt / tainted offerings they were giving to God. But, today's leaders have put a great spin / shift on this scripture and direct it towards the people to stoke their financial giving.

Do you know that there are many religious leaders who don't tithe, and those who do give a little offering; their offerings are viewed by God as those of the religious leaders that Malachi wrote about.
Watch this! Talking to the Priest / Religious Leaders!
KJV:
Mal.1: 8. And if ye offer the blind for sacrifice, is it not evil? and if ye offer the lame and sick, is it not evil? offer it now unto thy governor; will he be pleased with thee, or accept thy person? saith the LORD of hosts.
: 9. And now, I pray you, beseech God that he will be gracious unto us: this hath been by your means: will he regard your persons? saith the LORD of hosts.

NLT:
Mal.1: 8. When you give blind animals as sacrifices, isn't that wrong? And isn't it wrong to offer animals that are crippled and diseased? Try giving gifts like that to your governor, and see how pleased he is!" says the LORD Almighty.
: 9. "Go ahead, beg God to be merciful to you! But when you bring that kind of offering, why should he show you any favor at all?" asks the LORD Almighty.

As a nation, it's hypocrisy to the highest order to expect or to somewhat look for reverential fear of the Lord among the people; when such fear isn't found among the church leaders.

Watch this !
There are many religious leaders (Bishops, Doctors, Pastors, Apostles, etc;) who have put aside the wife of their youth (divorce), and those who haven't; that are dealing treacherously with the wives.
NLT:
Mal.2: 16. "For I hate divorce!" says the LORD, the God of Israel. "It is as cruel as putting on a victim's bloodstained coat," says the LORD Almighty. "So guard yourself; always remain loyal to your wife."
KJV:
Mal.2: 16. For the LORD, the God of Israel, saith that he hateth putting away: for one covereth violence with his garment, saith the LORD of hosts: therefore take heed to your spirit, that ye deal not treacherously.

Yahweh takes the leadership of his people personal and very serious. When it came to dealing with / speaking to the religious leaders Yahshua Messiah (a.k.a. Jesus the Christ) didn't minced his words or cut corners. Today's religious leaders through the twisting / misappropriating of the word of God have set themselves up as untouchable gods. Whenever their integrity, moral and ethical behavior is called into question; they and their selected cronies would quickly take this passage of scripture out of context in their defense (Ps.105:15. Touch not mine anointed, and do my prophets no harm.

Upright leadership will cause a nation to walk upright before God; whereas wicked, twisted and corrupt leadership will cause a nation to be cursed. (Mal.3: 9. Ye are cursed with a curse: for ye have robbed me, even this whole nation.)

Religious Leaders, will you rob God?


For questions and comments contact us via E-mail:pastormallen@yahoo.com or kmfci@live.com or Ph.242-441-2021 or 3.

Pastors Matthew & Brendalee Allen
Kingdom Minded Fellowship Center Int'l,









© Copyright 2011 by thebahamasweekly.com

Top of Page