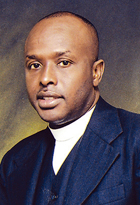 Lk.6: 46. And why call ye me, Lord, Lord, and do not the things which I say?
: 47. Whosoever cometh to me, and heareth my sayings, and doeth them, I will show you to whom he is like:
: 48. He is like a man which built an house, and digged deep, and laid the foundation on a rock: and when the flood arose, the stream beat vehemently upon that house, and could not shake it: for it was founded upon a rock.
Despite all of the religious and political rhetoric the times that we're living in will clearly define the foundation upon which our lives are built. As the political climate heats up due to the fact that another General Election is on the rise, many Bahamians will fall for the same old political rhetoric. And to add further insult to injury the (Politically Motivated Religious Leaders) will use every opportunity to get their political inspired messages into the hearts and minds of their congregations mixed with a few scripture verses.
In the above passage of scripture Yahshua Messiah (a.k.a. Jesus the Christ) says that "the man who not only heareth, but also doeth His sayings; is liken to a wise man which digged deep and laid the foundation of his house / life upon a rock. And when the events of life violently came against his house, his life; this man's house was not shaken because of it's foundation.
Watch this!
Lk.6: 49. But he that heareth, and doeth not, is like a man that without a foundation built an house upon the earth; against which the stream did beat vehemently, and immediately it fell; and the ruin of that house was great.
He that heareth the sayings / teachings of Yahshua Messiah and doeth not, is liken to a foolish man which built his house, his life upon the earth (The cares of this life). The very same events of life's challenges that came against the wise man's house, also came against this foolish man's house; but the stability of both house's are different.
As we go forward in this New Year 2011, if the foundation of your house / life is not founded upon the ROCK, Yahshua Messiah; now is a good time to make the adjustment and ensure that your house is well grounded. Despite all of the nice pathetic (so-called prophetic words) that are going forth today concerning God's blessings / prosperity. The blessings of God (Yahweh) are yet conditional.
Watch this !
Isa.1: 19. If ye be willing and obedient, ye shall eat the good of the land:
Deut.28: 1. And it shall come to pass, if thou shalt hearken diligently unto the voice of the LORD thy God, to observe and to do all his commandments which I command thee this day, that the LORD thy God will set thee on high above all nations of the earth:
: 2. And all these blessings shall come on thee, and overtake thee, if thou shalt hearken unto the voice of the LORD thy God.
: 3. Blessed shalt thou be in the city, and blessed shalt thou be in the field.
: 4. Blessed shall be the fruit of thy body, and the fruit of thy ground, and the fruit of thy cattle, the increase of thy kine, and the flocks of thy sheep.
: 5. Blessed shall be thy basket and thy store.
: 6. Blessed shalt thou be when thou comest in, and blessed shalt thou be when thou goest out.
: 7. The LORD shall cause thine enemies that rise up against thee to be smitten before thy face: they shall come out against thee one way, and flee before thee seven ways.
: 8. The LORD shall command the blessing upon thee in thy storehouses, and in all that thou settest thine hand unto; and he shall bless thee in the land which the LORD thy God giveth thee.
A believer, could attend all the religious conferences in the world, buy all the tapes, cd's, dvd's books, etc; and have the world's most famous religious Bishop, Doctor, Apostle, Pastor, etc; lay hands upon him / her, anoint with Olive Oil or even give the believer an Olive Tree. If that believer is not diligently hearkening to the word of God, and observing to do all of His commandments; such believer / believers will never walk into / experience the blessings of God.
Notwithstanding that one may obtain certain material pocessions (automobiles, houses, etc;) and equate those pocessions as the blessings of God; only to discover that a few months later they're full of sorrows as the banks are in hot pursuit of them for dilinquent payments.
When one is lining up with, and is a doer of God's word; his foundation will be firmly secured and anchored in the ROCK. And here's the type of Kingdom Blessings he / she will experience and walk in. "Prov.10: 22. The blessing of the LORD, it maketh rich, and he addeth no sorrow with it".
Ensure your foundation !
For questions and comments contact us via E-mails:pastormallen@yahoo.com or kmfci@live.com or Ph.1-242-441-2021.
Pastors Matthew & Brendalee Allen
Kingdom Minded Fellowship Center Int'l