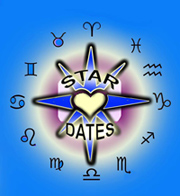 Aries (Born March 21 - April 19)
A relationship will figure prominently now, unexpected things could happen in your marriage, business partnership, serious relationship or in your romantic life. You could also see a shakeup dealing with your career or authority figures. You could have a disagreement with a superior, or even a career scandal, or perhaps make an unexpected change in career. Your health may be the thing to steal the show so look after yourself! This week will reveal sudden things that will require you to adjust your life, as it could change in a big way.
Taurus (April 20 - May 20)
The eclipse of April 4th will affect your work, daily routine, coworkers and health. You could be force to put out an ad for hire after a subordinate quits, you could find yourself in a doctor's office having to take drastic steps to fight against a sudden sickness. Look to your family for support for whatever comes up. You will feel more energy and drive to get up and go; anything that you take up now could prove to be successful.
Gemini (May 21- June 20)
You could receive news involving someone you're dating, a pregnancy, creative project or sports. The news is sure to shock you! You could find yourself in the hospital now either as a patient or visitor. A friend may prove helpful now, giving you support and good advice to cope with what is to come. Your relationship with siblings and neighbors could improve now. Your oratory skills will be on display, and anything dealing with school is favored now.
Cancer (June 21 - July 22)
With the full moon eclipse happening in your home, real estate and family portion, you can expect for the next few months many endings and culminations happening in this area in your life. Such happenings may include you moving or someone in your household moving, renovations, real estate or mortgage issues. Anything that happens now will require action from you to make changes to allow the situation to be more comfortable. This change will affect you emotionally, and may require you to react differently than you normally do.
Leo(July 23 - August 22)
You could go on a trip this week or have plans of travelling for later in the month. This trip may have to do with business as you expand your horizons and reach clients in distant places. This month will be one for career achievement, and launching new projects. What you start now can be expected to turn out successfully in the future and propel your public image. The full moon eclipse will fall in your 3rd house of communication and 9th house of travel, so for this week especially expect some delays or dramatic events in those areas.
Virgo (August 23 - September 22)
Prepare for the unexpected when it comes to finances. You may have a surprise expense come up, or although unlikely a surprise windfall of money to. If you have taxes you may have to pay more than you expect or run into some problems regarding it. Luckily, you should be able to recoup the money or join some payment plan in order to deal with the expense. As much as this month is about spending money, you also have many opportunities to make some.
Libra (September 23 - October 22)
This eclipse could bring news about your health or relationships. You may receive some unexpected information regarding a partner, and what may shock you most is that it involves a friend or associate. Before you act give yourself time because you may not have all the details in the beginning. Be on the lookout for your finances as you could incur some expenses, maybe from your home. Now is a good time to look over finances.
Scorpio (October 23 - November 21)
Your work ethic could get you noticed now. You are high flying when it comes to taking care of your responsibilities and health. This eclipse could bring up some hidden agendas and underhandedness from coworkers. Expect for some shakeups at work, an annoying or beloved coworker could quit or on the flip side you may have the hard task of firing someone. Your focus could also shift to your health, so don't be surprised if you have to make a doctor's appointment.
Sagittarius (November 22 - December 21)
This week could you see off on a trip. Back home you could have a falling out with a friend, or see a friendship change, perhaps because of marriage or them moving away. Although this trip you take could be welcomed, you could spend more than you would have liked to. Rehashing on the friend, this eclipse could also see you giving emotional, material or financial support to them because they may be going through a tough time.
Capricorn (December 22 - January 19)
Your career could receive a boost with the effects of the full moon. It is not out of the realm of possibility for you to become famous now! You could receive high remarks and favors from those in power. Opposite of your career is family and this area will bring you surprises this month to. If you are playing to start an at home business now would be a good time, or your family could interfere with your career in some way.
Aquarius (January 20 - February 18)
Matters dealing with international travel, university, passports and visas come up now. You may commence actions dealing with college now, get married in a foreign country or anything dealing with immigration. If you work in publishing, broadcasting or media in general you could start an important project or even be in the media more now. Whatever happens, you should count on the support of a partner, whether spouse or business. Something that you didn't know about, especially regarding your career could come up now and shock you.
Pisces (Born February 19 - March 20)
This eclipse will bring to a fore things dealing with large sums of money, debts and other people's money. You may have concerns with a mortgage, student loans or other debts or also receive financial aid, a new mortgage or inheritance. An unexpected big expense could come up now also, or a big windfall, expect the unexpected. You may receive help with this in the form of a new project at work with a nice salary attached, a raise, promotion or a new job offer.

Adah Deveaux is an apprentice of Tametryo Brown and Star Dates. She has been been practicing astrology since she was 12 years old and has since made it her career path.

Tametryo Brown has been studying Astrology for over 10 years. His company Stardates Global is dedicated to helping people find their soul mates through self discovery and the science of astrology. He runs a Stardating company in Nassau, Bahamas. His knowledge of astrology and human personalities go beyond his age. His scientific predictions have touched the lives of many across his homeland and abroad. Tametyro is also a certified hypnotherapist from the Hypnosis Medical Institution/ American Hypnosis Association (HMI/AHA) where he still continues to further his studies in hypnosis. He has helped many clients realize their life's purpose. Website: www. stardatesbahamasinternational. com and twitter page:www.twitter.com/ stardatesbh Reach us at stardatesbh@gmail.com Phone: 1-242-466-6613