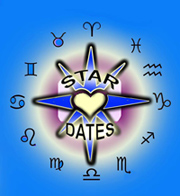 Aries

March 21 - April 19
This week can find you healing hidden wounds especially in regards to your masculine side and ability to take action. Perhaps in the past you were unsure of which way to go and this frustrated you; because of planetary influences this energy is very strong now, however you will find peace with not always knowing how to act. You will learn how to rely on your intuition more and let destiny have its way at the times when you find yourself unable to act.
Taurus
April 20 - May 20
You find great pleasure in friendships and group activities now, coming into contact with new people. Your charm will make you very popular and you will probably get more invitations to social events. This positive energy is dampened a bit, as you may go in and out of feeling accepted and also separate from the crowd. You could find yourself wanting to engage in more one-to-one interaction in your groups, perhaps to spark a romantic connection.
Gemini
May 21- June 20
Your ruler, Mercury is retrograde this week, impairing your communication abilities. Expect more dropped calls, unsent emails, arguments caused by misunderstandings in communication and mind fumbles. Take it slow when communicating and double check that all correspondence were successfully delivered. Take care when driving as during this time accidents and mechanical malfunctions are more frequent, and expect some flight delays for the remainder of the month. You have a strong desire to travel now, especially to some place far away, double check all travel arrangements to ensure your trip runs smoothly.
Cancer
June 21 - July 22
You may experience minor setbacks this week which will emotionally frustrate you. You are more easily imitated and prone to arguments. There is confusion between what you think you should do and what you want to do and this can lead to you feeling stressed out. Don't initiate any projects at this time as you won't know all of the details, or have the emotional stability to deal with any obstacles. Now is the time to access your emotional needs and the hidden causes of your emotional turbulence.
Leo
July 23 - August 22
Partnerships should be going well for you at this time. You feel a real need to connect more with your partner and your relationships will be heavy on your mind. You will feel an increased urge to communicate within your relationships, however because of Mercury retrograde, be sure to take extra care in what you say especially at the beginning of the week where there is a chance for emotional misunderstandings.
Virgo
August 23 - September 22
You will want to increase your communication this week, Virgo! You will desire to exchange ideas with your coworkers now, going back and forth in many conversations. Your responses in communication are automatic now and you come across as being more open. Mercury, your ruler being retrograde could cause some miscommunication, however. Although you will want to respond immediately in a conversation you must step back and slow down your speech to make sure you are fully understood. Any reports or correspondence dealing with work should be thoroughly revised.
Libra
September 23 - October 22
Your romantic nature is especially high now, and you want to infuse beauty into every area of your life. You are idealistic now, and wouldn't mind falling in love, in fact you may already be in love. You will have your head in the clouds and see everyone you date now as Mr. or Mrs. Right. Be careful of having rose-colored glasses on, and be sure that the person you think they are is really them. Don't be surprised if you suffer some lapses in communication now, be forgiving and flexible.
Scorpio
October 23 - November 21
You will be determined and forceful in your communications this week Scorpio! You know exactly what to say and who to say it to. You are very much into initiating contact and keeping progress in conversations. Your conversations will intension even more now, however you should be able to pull back before an argument starts. However, there may be miscommunications this week, especially with coworkers and romantic interests. Put your thoughts through a mental filter and be sure of what you say because it could be misinterpreted or you yourself may not be fully sure of what you are saying.
Sagittarius
November 22 - December 21
You will feel a strong desire to communicate this week. Words will come to you easy and conversations will breeze through with joy, mostly. Mercury is in retrograde, and this can cause some miscommunications. You have to really watch what you say because carelessness can lead to people being confused about what you say. Be careful of promising more than you can give because it will not be forgotten. Your travel plans may go awry, so remain flexible with flying times and don't speed!
Capricorn
December 22 - January 19
You could feel uneasy in group situations this week, preferring more one-on-one interaction. You could feel alone in the crowd and find little joy in group activities. Your sense of duty could make you seem like a wet blanket to your friends. You are more inclined to choose people within your friends group to be closer to and deepen the friendship. Your finances could be negatively affected, most likely from friends or group activities you participate in, use your sense of responsibility to damper these negative influences.
Aquarius
January 20 - February 18
You want to shock people with your inventive ideas and lively conversation. People may not respond as beneficially as they have in the past, because Mercury is retrograde. This can cause confusion and people may take your ideas the wrong way. You will feel like learning new things this week, be sure to re-read and check multiple sources to ensure you truly understood the information you absorbed. Sudden changes may come regarding travel and there could also be delays in this area, however it shouldn't affect you too much as you know how to remain flexible.
Pisces
February 19 - March 20
You could feel especially beautiful and romantic now. This energy could infuse into your love life as both men and women see you as more ethereal and are interested in uncovering your mystery. You feel kind and compassionate and could fall to savior-victim tendencies now. Anyone who makes a strong impression on you now should be thoroughly vetted as your imagination may cause you to see a prince when there is really a frog. Use this time to explore the arts and bring beauty and romance alive.


Adah Deveaux is an apprentice of Tametryo Brown and Star Dates. She has been been practicing astrology since she was 12 years old and has since made it her career path.

Tametryo Brown has been studying Astrology for over 10 years. His company Stardates Global is dedicated to helping people find their soul mates through self discovery and the science of astrology. He runs a Stardating company in Nassau, Bahamas. His knowledge of astrology and human personalities go beyond his age. His scientific predictions have touched the lives of many across his homeland and abroad. Tametyro is also a certified hypnotherapist from the Hypnosis Medical Institution/ American Hypnosis Association (HMI/AHA) where he still continues to further his studies in hypnosis. He has helped many clients realize their life's purpose. He can be reached stardatesbh@gmail.com Phone: 1-242-466-6613